The Port of Felixstowe has seen a significant uptick in container dwell following the second strike at the UK port.
According to new data from FourKites, since the first port worker strike began at the Port of Felixstowe, the firm saw a significant increase in days at terminal for containers currently at the facility.
On 21 August (the day the first strike began), ocean shipments (including import/export/transshipment) at the Port of Felixstowe had been at terminal for 5.5 days on average.
By 30 August, this had increased to a peak of 10.3 days on average, an 87 per cent increase.
After the initial strike ended, average days at terminal at Felixstowe decreased down to 3.8 days on average, though the onset of the second strike on 27 September has since caused this to increase again by 84 per cent to 7 days as of 3 October.
Over this period, a collection of major European ports (including Rotterdam, Bremerhaven, Hamburg, and Antwerp) has remained mostly stable, with the 7-day average days at terminal at 6.4 days as of 3 October.
During the initial Felixstowe strike, FourKites saw shipment arrivals to Felixstowe decrease from 20 per cent of all UK port arrivals to 0 per cent (during the week of 7 August).
During this time period, it appears that many shipments may have been rerouted to other ports in the UK such as Southampton, which saw an increase from 13 per cent to 24 per cent over the same two-week period.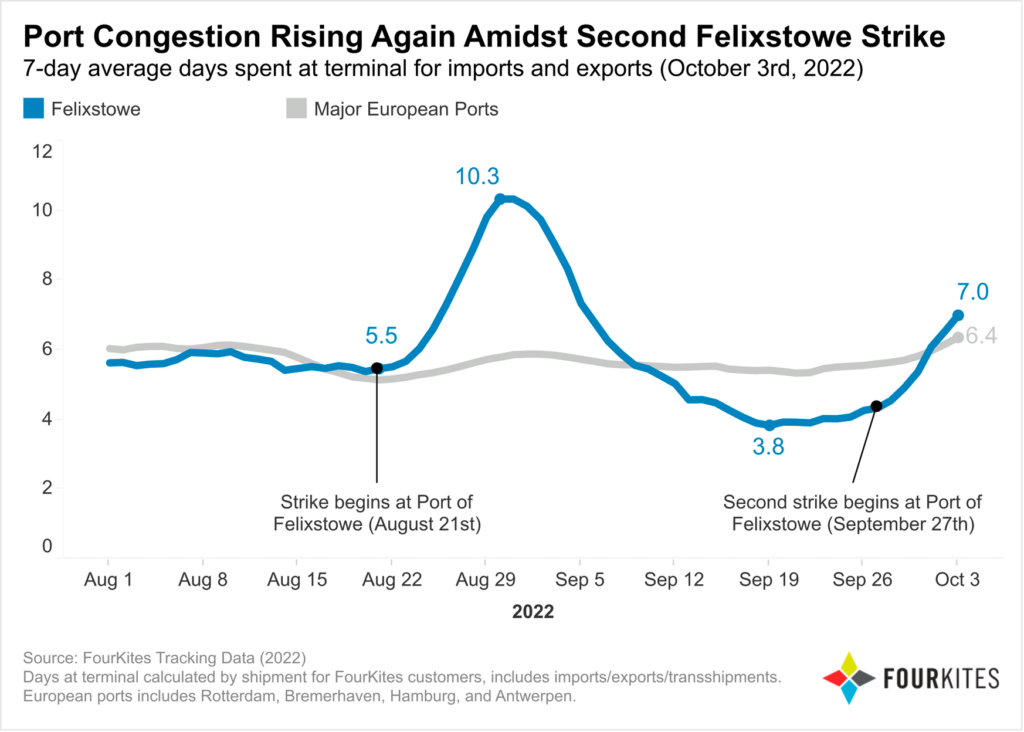 FourKites has also seen a decrease in shipments arriving to Liverpool as the strikes began late in September, where shipment arrivals decreased by 85 per cent month-over-month.
Felixstowe has also seen another decrease in shipment arrivals as the second strike began, decreasing by 57 per cent week-over-week.
Nearly 600 Liverpool port workers are taking seven days of fresh strike action between 11 and 17 October, Unite the union announced in September.
A redundancy consultation process is soon to begin at the Port of Liverpool following continued strike action.