Japanese shipping line Mitsui O.S.K. Lines, Ltd (MOL) has announced the establishment of a new wholly-owned subsidiary – EcoMOL.
The new company was set up to tackle immediate greenhouse gas emission reduction from ships through the use of digital solutions.
MOL previously set a target to improve fuel efficiency by 5 per cent by the end of 2024, setting up the subsidiary to directly support the aim.
According to the shipping line, it will continue to encourage to take dynamic and innovative actions in daily operation, leveraging a big data analysis and constant actual operation performance review, while EcoMOL Inc. will take a vital role to stimulate above activities by collaborating with various stakeholders and lead ships eco-operation by all means.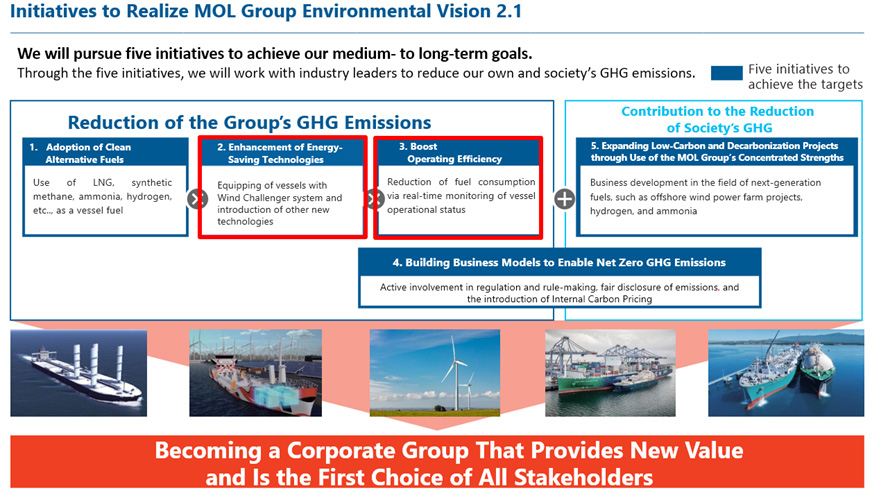 "Reducing GHG emissions intensity in marine transport by approximately 45% by 2035 (versus 2019) and achieving net zero GHG emissions by 2050 with concerted effort throughout the group," said MOL in a statement.
"Through five initiatives, including boosting operational efficiency, EcoMOL will play a key role to achieve sustainable net zero GHG emissions and contribute to a low- and decarbonised society."
The MOL Group also recently partnered with Plug Power Inc. to build one of Europe's largest-capacity green hydrogen production facilities.
The €22 million ($23.1 million) facility will be located at its Danube Refinery in Százhalombatta, Hungary and make use of a 10-megawatt electrolysis unit from Plug Power.
The Plug equipment uses electricity from renewable sources to split water into oxygen and hydrogen gas through electrolysis. This process does not produce any by-products that harm the environment.