The Port of Klaipeda in Lithuania concluded 2022 witnessing record-high container handling volumes, benefitting from additional ocean maritime routes.
The port confirmed its spot as the fourth largest port among the Eastern Baltic ports, as it exceeded the 1 million TEU threshold and recorded an annual growth rate of 57 per cent.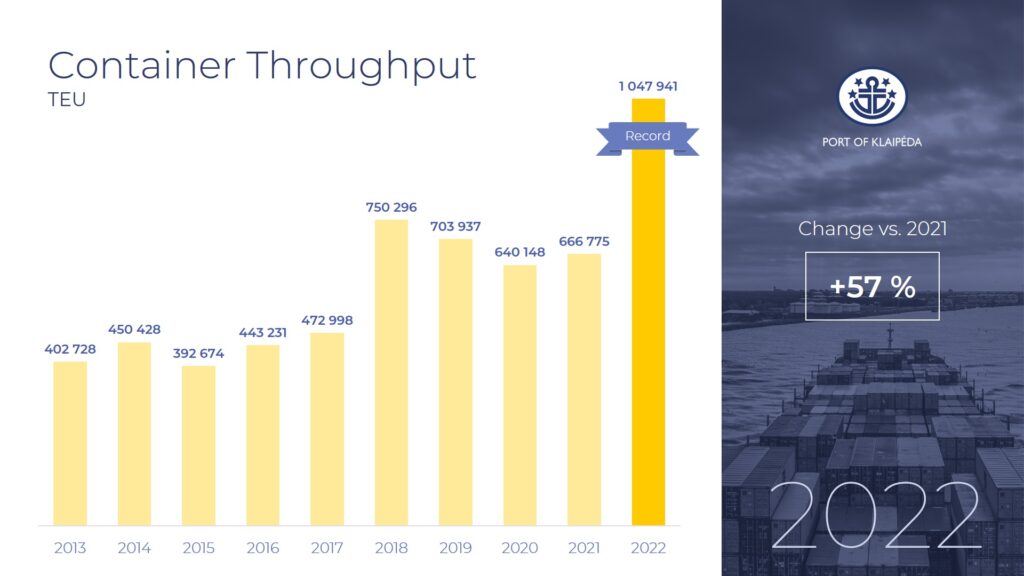 Additionally, the Port of Klaipeda registered a cargo volume of 36.1 million tonnes. Despite a decrease of 21 per cent compared to the previous year's volume of 45.6 million tonnes, the result was better than initially forecasted due to the war in Ukraine and related sanctions that led to a loss of nearly all transit cargo.
The decrease was further offset by the record number of TEU and an increase in Liquefied Natural Gas (LNG) and other petroleum product cargo volumes.
READ: Hamburg strengthens cooperation with Klaipeda
"The Port of Klaipeda has maintained its position on the eastern shore of the Baltic Sea, and is now leading in terms of containerised cargo handling," said Algis Latakas, Director General of the Port of Klaipeda Authority.
"We are continuing our investments in infrastructure and environmental sustainability without changing our strategic direction. The port is dependent on its geographical location, general economic trends, industry and transit routes, but we put our efforts that this year we will maintain our 2022 performance in cargo handling."
Last year was also marked by a recovery in cruise shipping, as the Port of Klaipeda welcomed 61 cruise ships carrying 47,000 cruise tourists. In total, the port received 5,605 ship calls and 337,000 passengers in 2022.