The Russian Container Market has processed 1.3 million TEU in Q3 of 2021, increasing 9% compared to the same period in 2020, according to the latest figures from Global Ports Investments (Global Ports).
The latest figures from the Russian container terminal operator show a marginal increase in the overall Russian container market, with ports in the Far East of the country seeing the largest increase in throughput to 497,000 TEU, an increase of 13.4% when compared to Q3 of 2020 when the region processed 438,000 TEU.
Contrastingly, Northern Ports saw a decline of 4.8% in throughput to 40,000 TEU, compared to 42,000 TEU in the same period in 2020.
"The Russian container market remains strong across all segments. In the third quarter, we were encouraged not only by strong import volumes but also by the acceleration of full export growth to almost 14%. Our large well-equipped terminals with strong railway connections in the Northwest are well prepared for such containerised export growth," said Albert Likholet, CEO of Global Ports Management.
"Our immediate operational focus is on Vostochnaya Stevedoring Company (VSC), which this September operated under an environment of exceptionally high and rapidly changing demand dynamics whilst undergoing the transition back to a 100% container dedicated facility with advanced terminal operating software.
"We believe that we are firmly on track to offer our clients the same high level of service as we provide in the Northwest that has enabled us to consistently improve our market position over the last few years."
Of the Global Ports dedicated terminals, Petrolesport (PTP), in Northwest Russia, performed the best in this quarter, reaching 99,000 TEU. This showed an increase of 25% when compared to Q3 2020's 79,000 TEU.
Ust-Luga Container Terminal (ULCT) experienced a 38.5% decline in throughput, only processing 8,000 TEU compared to last year's 13,000 TEU.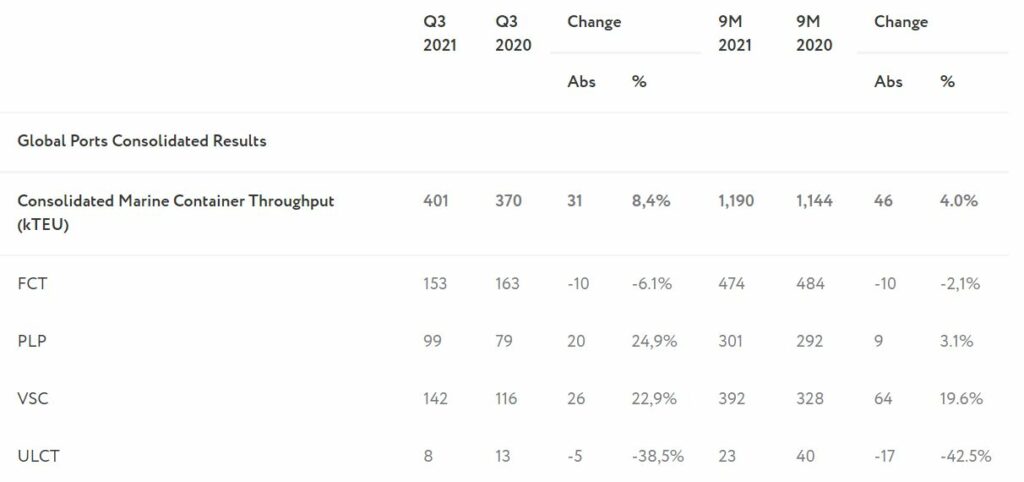 This follows on from the news that Global Ports saw its profits increase 11% year-on-year (YoY) in H1 2021 as its container segment grew and recovered from the worst effects of the COVID-19 pandemic. Announced in August 2021, the company revealed its revenue increased by 24.6% and earnings by 8.5%, with container traffic rising by 1.9% thanks to a "strong market position".