The African Horn region is a lynchpin in global trade – and two countries are digitising processes to realise the supply chain's potential in the region.
In partnership with Crimson Logic, on 30 September PTI hosted a webinar session on digitisation through single window trade and leveraging new technologies to improve processes and expedite cargo to where it needs to go.
KenTrade and CrimsonLogic
Kenya is a rapidly emerging maritime nation. Yet before 2012, supply chain actors were hampered by lengthy and costly processes and a lack of transparency in areas such as customs and cargo clearance.
In 2013, the Kenya Trade Network Agency (KenTrade), the state-owned agency to enhance trade throughout the country, partnered with CrimsonLogic to implement the Kenya TradeNet System.
CrimsonLogic and Global eTrade Services (GeTS), a CrimsonLogic subsidiary, launched a digitised platform to leverage new technology, lower enhancement costs, and ensure ease of technical and user support.
Since the adoption of the system, a staggering 3.36 million permits have been processed for customs clearance, improving import times from 6.3 days to 4.2 days.
TradeNet System's secure repository, electronic availability of cargo clearance documentation and use of cargo release module has reduced one stop clearance time by 71% – bringing efficiencies for customers and providing a vital use case for developing port countries across Africa.
The latest upgrades for the system is the implementation of a Maritime Single Window (MSW) system, which went live on 2 June 2021.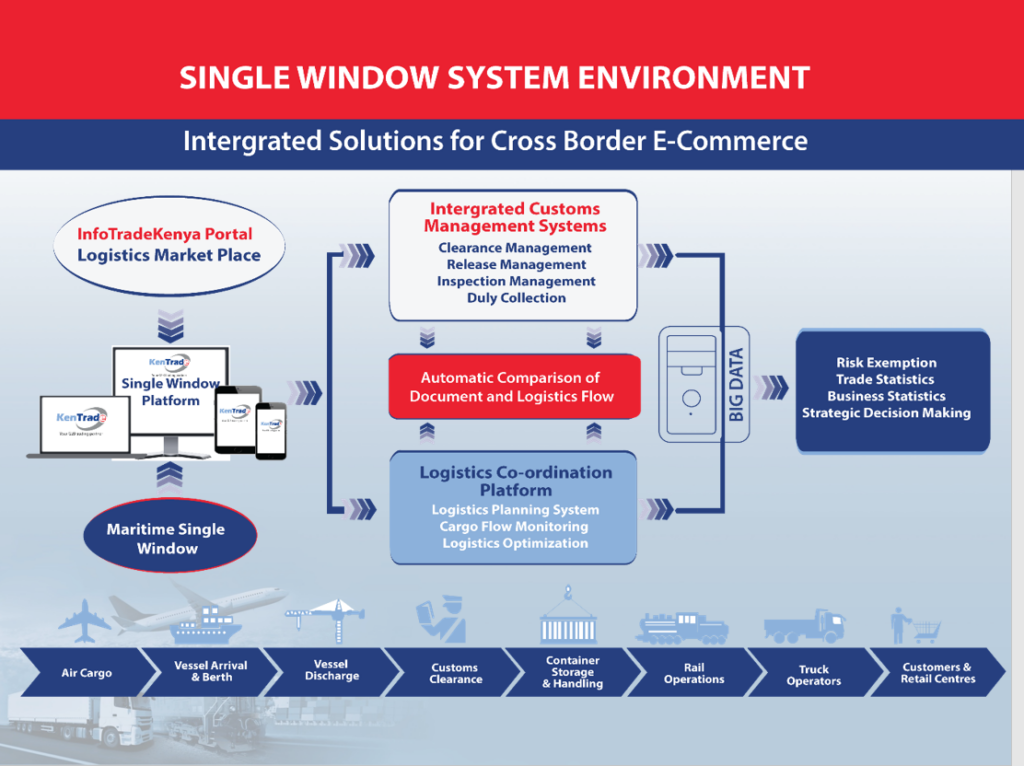 The MSW system caters for a paperless environment for the submission of pre-arrival and pre-departure declarations, as well as integrating with ports and customs systems to provide greater clarity of information on the ground such as bunkering, timing of vessels, supply reception, and more.
Amos Wangora, CEO of KenTrade, told the webinar, "We have had good a partnership with CrimsonLogic. The next natural step is looking at value addition around the single economic window that has been achieved."
Through embrace of innovation and digitalisation, the MSW is a key focus area to improve performance, enhance safety and security of cargo flows, and improve ship turnaround time, Wangora noted.
Solomon Raj Joseph, Product Director at CrimsonLogic Pte Ltd, said the partnership – which now has onboarded more than 25 government agencies in platform since 2016 – will extend connectivity beyond the single window in the future.
"Both CrimsonLogic and KenTrade have come a long way to enable trade facilitation in Kenya," he told the webinar.
"Moving forward, we will continue to facilitate the trade ecosystem. Business-to-business services are crucial to the end-to-end supply chain to streamline processes.
"We will be embarking on trade with KenTrade in the future on this: providing connectivity, fostering easier and more predictable trade, [and] bringing down cost. We look forward to strengthening our relationship with KenTrade."
Djibouti
With a population of 960,000, Djibouti punches above its weight in maritime and port activity. Djibouti City operates five ports, including general and container cargo, utilising three specialised free trade zones to bring goods through the region.
Warsama Guirreh, CEO of the Djibouti Port Community System (DPCS), told the webinar that the national DPCS, driven by the Djibouti Ports & Free Zones Authority, brings together all stakeholders: including shipping agents, port authorities, and customs agencies.
"There was a lot of challenges like everyone has had when integrating all of these different entities. This is not something that has happened before in Djibouti – a PCS was a new concept for our partners," Guirreh explained to the webinar.
Digitised features of the DPCS include vessel management documentation submittal, e-gate appointments, and integrated online payments for customs clearance and freight forwarding services.
The results have been transformative for all actors in the supply chain: port clearance for vessel owners, for example, was previously manual. Shipping agents had to hire a tugboat to physically travel to the vessel master to provide documentation by hand.
Now, with DPCS, online submittal to a single community system reduces delays, costs, and provides transparency for all involved in the logistics chain.
E-port clearance saves five hours and up to $650 per transaction for shipping agents, as well as increase visibility for an importer or exporter in landlocked areas such as Ethiopia, for example.
Guirreh said the collaborative mindset of DPCS was instrumental in understanding challenges for the supply chain.
"Our PCS used to hold a monthly meeting, [bringing] all stakeholders at one table," he explained.
"Shipping agents requesting improvements from ports, and forwarders were requesting improvements from shipping agents.
"We sat down with the shipping agents and suggested that, if we implement the improvements in ports and customs, would [agents] be more receptive to provide the necessary support to ease the job of the forwarders themselves?
"Since then we have been able to provide facilitation and [stakeholders] are more receptive to provide more facilitation to those that depend on those services."