A transshipment port is a hub that handles a lot of cargo, TEU or otherwise, between multiple vessels, but what is the busiest transshipment hub in the world?
The cargo at these ports is transported away to another port, rather than being shipped inland via rail, road or waterway.
Transshipment is a vital part of any container shipping line's business and can account for a substantial amount of seaport traffic, especially in regions with many manufacturing hubs. But what are the busiest transshipment hub in the world?
Here is list of the top five transshipment hubs in the world:
1. Port of Singapore
The Port of Singapore is the busiest transshipment port in the world and accounts for 20% of the globe's transshipment traffic. It second busiest handled 37.2 million TEU in 2019, 30.9 million of which was transshipment, making it the second busiest port for overall TEU cargo on Earth.
Additionally, the Port of Singapore is connected to 600 ports in 123 countries global, with 130,000 vessels calling at every year. It will become the world's busiest port once its 60 million TEU Tuas Port terminal is completed in 2040.
The Port of Singapore is the world's busiest transshipment port.
2. Port of Shanghai
The Port of Shanghai is the largest port in the world having handled 43.3 million TEU in 2019, approximately half of which is transshipment volume.
It has been the world's busiest port in the world since 2010 when it overtook the Port of Singapore. It is now less than three million TEU away from its target of handling 45 million TEU a year, which it plans to do by 2040.
It is currently home to the largest automated container terminal, the Shanghai Yangshan Deep Water Port, which opened in 2017.
3. Port of Shenzhen
The Port of Shenzhen handled 25.77m TEU in 2019, around half of which was transshipped to another port of call. Overall, it is the fourth busiest port in the world, being separated from Shanghai and Singapore by the Port of Ningbo-Zhoushan.
The wider metropolitan area is home to many of the world's largest technological companies, such as Huawei, which has made it major tech hub.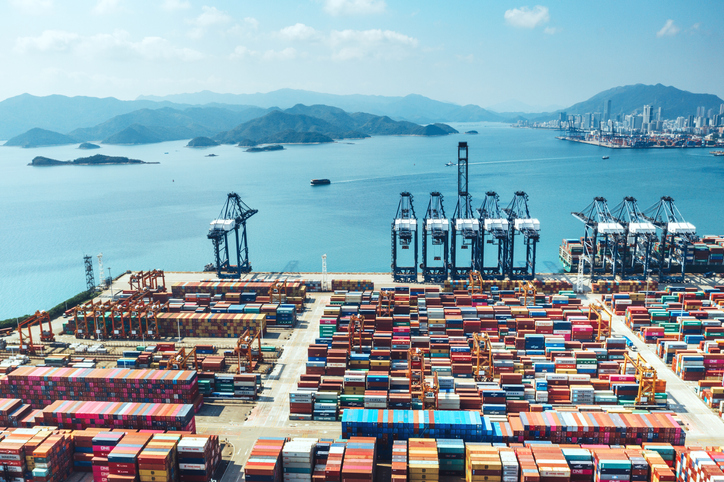 4. Port of Busan
The Port of Busan handles approximately 9 million TEU of transshipment cargo a year, and 21.99 million TEU a year overall, making it the sixth busiest port in the world.
Busan's feeder network has enabled it to connect to ports in Russia, China and Japan and its transshipment incentives enable it to attract larger volumes of cargo.
In November 2020 it launched a plan to increase its capacity to 32 million by 2030 by investing in smart technologies.
5. Port of Hong Kong
The Port of Hong Kong handles approximately five million TEU of transshipped goods a year and 18.36 million TEU overall, which makes it the eighth busiest port in the world.
It has extensive facilities for repairing, maintaining and dry-docking all types of ships. Three floating dry docks are located off the west coast of Tsing Yi Island.
Once the busiest port in the world, Hong Kong has been left behind during China's manufacturing and export boom.