CMA CGM has announced the launch of its NEW BRAZEX service and the new dedicated service named MANAUS SHUTTLE.
NEW BRAZEX will improve BRAZEX1 and BRAZEX2 two dedicated loops for South Brazil and North Brazil; a direct weekly connection to Cartagena and South Brazil; improved transit time and schedule reliability from/to South Brazil from/to US Gulf/MX & Caribbean regions; and a connection to CMA CGM's feeder network via Kingston to West Coast South America, Venezuela and Caribbean.
NEW BRAZEX also offers a shuttle from Kingston to Manaus & Vila Do Conde; connection to Buenos Aires, Montevideo and Suape via Santos; connection from Veracruz to US East Coast via Kingston and Cartagena; and places a strong focus on the Reefer Market with more than 300 plugs allocated on a weekly basis.
READ: CMA CGM enhances North Europe-South America connection
The new BRAZEX will rotate between New Orleans – Houston – Veracruz – Kingston – Cartagena – Salvador – Santos – Navegantes – Paranagua – Santos – Rio de Janeiro – Cartagena – Kingston – New Orleans.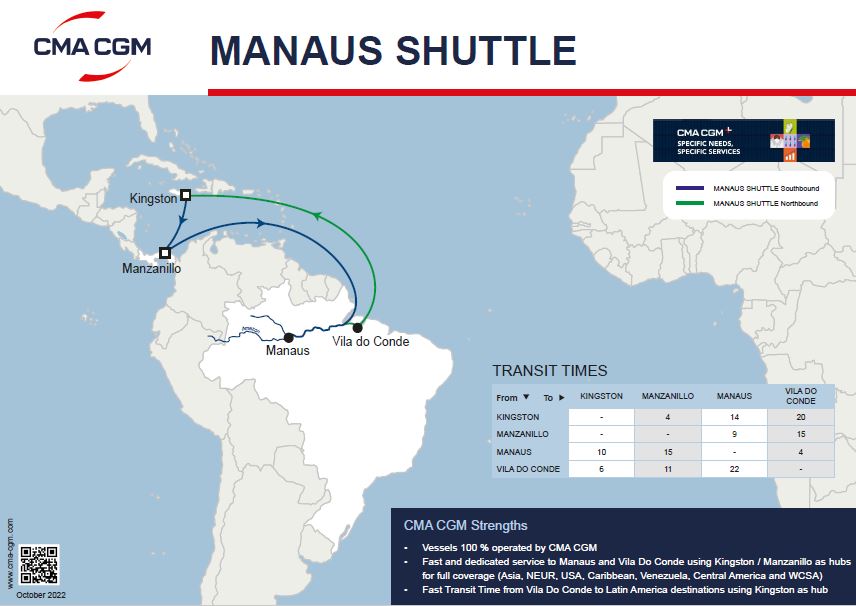 Additionally, the service to Manaus and Vila Do Conde will now be operated via a new dedicated service, MANAUS SHUTTLE, with transshipment in the KINGSTON hub.
MANAUS SHUTTLE's rotation will be: Kingston – Manzanillo – Manaus – Vila do Conde – Kingston.
Last week CMA CGM – Short Sea Lines Division announced a new butterfly Morocco Shuttle service launching between Morocco, France, and Spain.