Bruks Siwertell – Dry Bulk Handling and Wood Processing Systems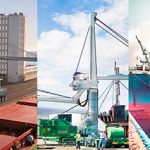 Bruks Siwertell is a market-leading supplier of dry bulk handling and wood processing systems. With thousands of installations worldwide, our machines handle your raw materials from forests, fields, quarries, and mines, maintaining critical supply lines for manufacturers, mills, power plants and ports.
We design, produce and delivery systems for loading, unloading, conveying, storing, and stacking and reclaiming dry bulk materials, alongside equipment for chipping, screening, milling, and processing wood for the biofuel, board, sawmill, pulp and paper industries.
We are global and local. You will find our main offices in the US, Sweden, Germany, China, the Philippines, Russia, and Taiwan, supported by a dedicated network of hundreds of representatives and dealers worldwide. An extensive global service team offers support to Bruks Siwertell customers whenever and wherever it is needed.
PRODUCTS
Our ship unloaders are designed to transfer dry bulk cargo from ship to shore in the most efficient manner possible. Equipped with totally-enclosed screw-type technology, the unloaders offer a wide range of rated capacities from 200t/h to very high rates of more than 3,000t/h for barges and ships of various sizes. They are supplied in rail-mounted, port mobile, road-mobile, and stationary versions.
Bruks Siwertell's market-leading ship loaders are based on screw, aero side or belt conveying technologies and are delivered as stand-alone equipment or as part of terminal systems. Ship loaders are supplied as stationary or rail-traveling units with telescoping and slewing configurations. For even greater access to all parts of the hold, slewing screw-type loaders can be supplied with a scissor-arm arrangement. We can deliver systems with loading capacities as high as 12,000t/h.
Bruks Siwertell offers one of the most comprehensive ranges of conveyors on the market from the traditional belt and idler configurations and unique horizontal and vertical screw conveyors, to state-of-the-art, extremely efficient air-supported, low friction belt technology. They are supplied as Idler belt conveyor, Chain conveyor, Screw conveyor, Vibrating conveyor, Tubulator and Air supported conveyors.
Bruks Siwertell provides engineering solutions and equipment – such as ship loaders and unloaders with a wide span of capacities, conveying systems and storage systems – for a broad range of dry bulk material handling applications worldwide. Tailor-made bulk terminals and transfer terminal systems are designed to suit each customer's needs.
Stacker reclaimers are a combination of technologies that pile and then retrieve dry bulk materials for onward conveying in a very efficient, controlled way. They also blend material, which is particularly important for organic commodities such as wood chips, bark or sawdust, to reduce fiber losses from microbial action and heat build-up in the pile. They are supplied as a Travelling stacker, Circular stacker, Cantilever chain reclaimer, Linear overpile portal reclaimer, Stoker reclaimer, Overpile stacker reclaimer, and Bleding bed stacker reclaimer.
Bulk trucks are a flexible, efficient way to distribute the huge volumes of processed wood required by the bioenergy market and also by the pulp and particle board industries. Bruks Siwertell has developed a unique truck unloading portfolio that focuses on the fastest, most efficient way to discharge both end-dumping and self-unloading trucks so that onward processing is as effective as possible. They are supplied as Back-on truck dump, Over truck dump and Receiving hopper self unloading trucks.
Our heavy-duty chipping machines are at the forefront of the industry, supplying facilities worldwide with high-capacities and quality wood chips. The size and variety of the wood to be processed are usually the deciding factors for which technology to select, but some industries require much greater control over chip size, while others need very low running costs. They are supplied as Disc chipper (drop fed), Disc chipper (horizontal fed), Drum chipper (gravity) Drum chipper (horizontal) and Mobile chippers.
Our high-performance, heavy-duty milling systems are specified to maximize the return on waste wood products and can ensure that a wood product is an ideal condition to be processed. They are supplied as Hammermill (green materials), Hammermill (dry materials), Hammermill (system solutions), Knife ring flaker and Butt flare reducer.
Bruks Siwertell offers several screening options depending on processing needs. By ensuring that oversized pieces are separated from a load, our screening systems can eliminate material handling problems and any unnecessary downstream damage or inefficiency to wood-processing equipment or other machinery. They are supplied as Gyratory free swinging screen, Medium thickness screening system, Disc scalping screen, and Vibratory screens.
Specifically designed for handling waste wood products, our Rotom hammer hogs feature a two-step size-reduction process to ensure that the end product is no longer waste, but effectively a valuable fuel commodity. They are supplied as Rotom hammer hog (horizontal fed) and Rotom hammer hog     (drop fed).
Contacts
Website: www.bruks-siwertell.com
Siwertell AB P.O. Box 566
Emily.Cueva@siwertell.com
SEND A DIRECT ENQUIRY: RFQS, RFPS, TENDERS